news
Stainless steel electric motors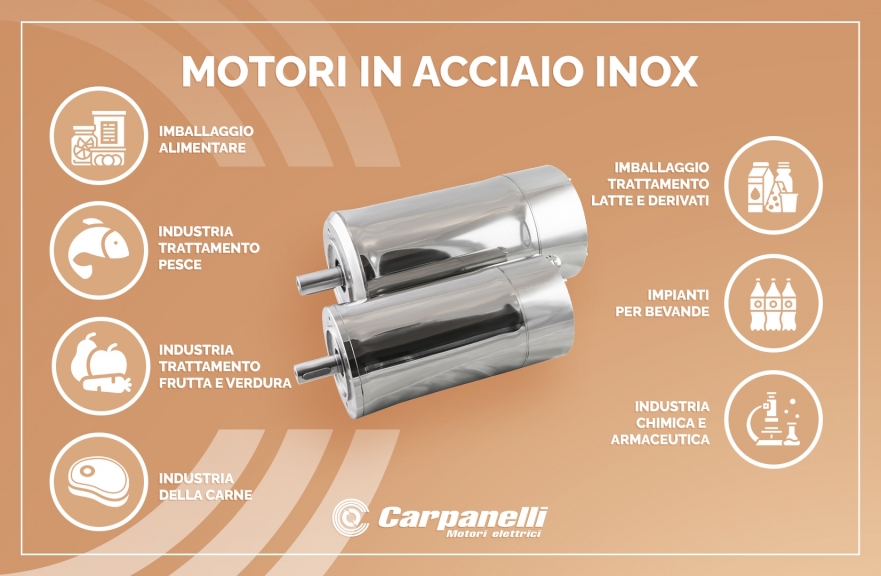 Stainless steel electric motors
The stainless steel electric motors are ideal for the food and pharmaceutical sectors, in fact they guarantee maximum resistance and hygiene. Their surface is easy to clean and is resistant to corrosion, aggressive agents and disinfectants frequently used to sanitize systems.
Resistant and durable stainless steel motors
All external metal components of the electric motor are made of stainless steel. This allows an excellent resistance to corrosion and chemicals, and guarantees a much longer engine life than standard engines. They are a reliable and lasting solution.
Stainless steel motors: maximum food safety
The stainless steel structure complies with the principles of hygienic design, ensures maximum cleaning efficiency and reliability, even in extreme conditions. Electric motors in stainless steel reduce cleaning times.
Electric motors applications in stainless steel
The stainless steel electric motors are designed for applications where the motors are subject to frequent washing, are in contact with food or corrosive agents, and where a high level of hygiene is required.
For example motors for:
Food packaging
Fish treatment plants
Fruit and vegetable treatment plants
Meat industry
Milk and dairy treatment plants
Beverage systems
Chemical and pharmaceutical industry
Carpanelli Motori Elettrici is an all-Italian company that designing and manufacturing multiple models of asynchronous electric motors completely in stainless steel. The aim is making it easier to carry out activities and compliance with the hygiene rules required for the processing of raw materials such as meat, fish, vegetables and much more.
Motors available in the version with only the cable gland or with the rear terminal cover. Inside of these motors it is possible to house the terminal block, the brake or a position transducer. Carpanelli motors are 100% Made in Italy, made with controlled processes and top quality materials.
As with all Carpanelli motors, also for stainless steel motors it is possible to study and implement special electrical and mechanical solutions, so as to satisfy all customer needs.
In fact, all motors can be customized according to the needs of the customer and the machinery on which they will be installed.
Are you looking for a stainless steel electric motor? Contact us!
< Go back