news
IE3 High Energy Efficiency Electric Motors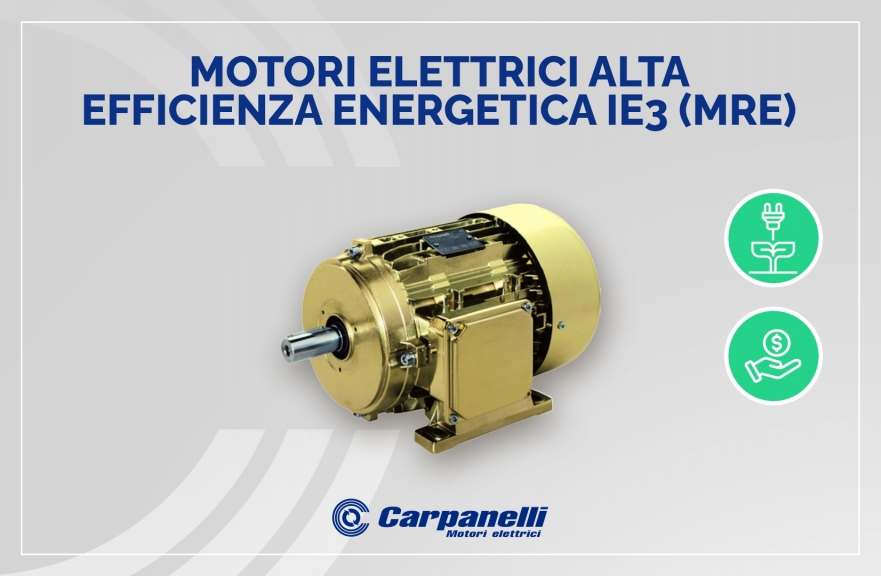 IE3 high energy efficiency electric motors are also called high-efficiency motors and be part of the efficiency levels established by the legislation IEC 60034-30-1.
Energy saving motors
These electric motors are designed and manufactured with materials chosen to reduce the energy absorbed to a minimum, so as to obtain maximum energy savings and increase motor efficiency.
The IE3 high efficiency motors (MRE) are in fact developed in terms of energy saving: less losses, greater efficiency.
Thi is possible not only thanks to specific choices made in the design phase by Carpanelli Motori Elettrici, but also thanks to the use of high quality raw materials.
Energy Efficiency Classes
With the aim of encouraging industries to reduce energy consumption, international legislation has defined the energy efficiency classes of three-phase motors:
IE1 – Standard Efficiency
IE2 – High Efficiency
IE3 – Premium Efficiency
High performance engines
The high-efficiency motors allow maximum energy savings thanks also to the reduction of losses. They have an optimized design and construction with the highest quality materials.

It is estimated that by replacing the old electric motors used in European industries with new generation products, savings of almost 150 billion kWh could be achieved every year.
The Carpanelli IE3 high efficiency electric motors are motors:
Customizable
Compact size
Low noise
Highest quality materials
All types of voltage available
Available in the self-braking version
With speed transducers (Encoder and Resolver)
IP55, higher protections on request
PTC, PTO or PT100 temperature sensors
Paint of your choice
Carpanelli Electric Motors are made according to current regulations and are highly energy efficient motors.
Discover the high efficiency Carpanelli motors!
Contact us for a quote! 
< Go back