news
GHA Carpanelli Electric Motors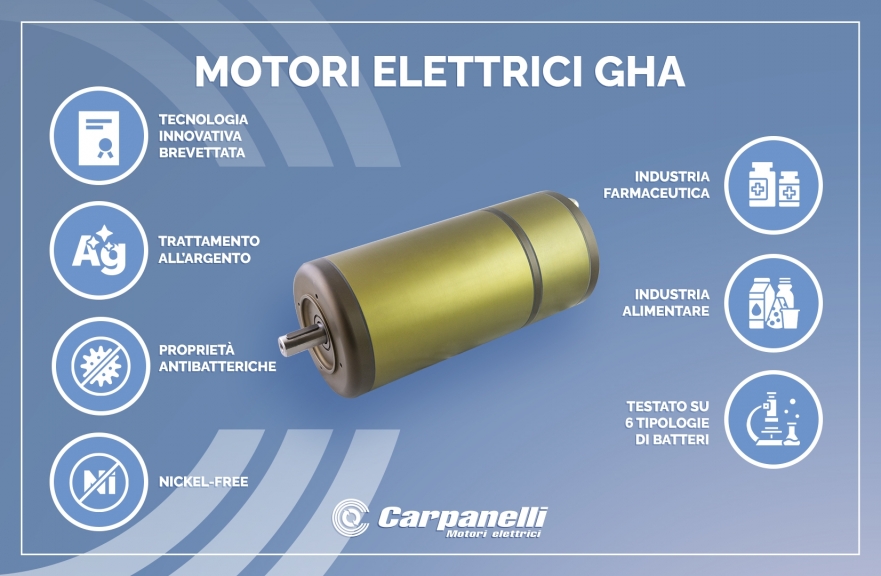 The GHA Electric Motors are a line of motors patented by the Carpanelli Motori Elettrici company with silver treatment.
This is a new silver treatment designed for aluminum alloy motors. Therefore it offers a valid alternative to stainless steel motors or other treatments, especially for sectors such as food or pharmaceuticals, where it is necessary to always maintain an environment clean and aseptic.
What does GHA stand for?
The G.H.A. (Golden Hard Anodizing) is an innovative technology applicable to the surfaces of aluminum-based alloys. It is an anodic oxidation process enriched with silver ions which gives the treated surface exceptional antibacterial, anti-corrosion, anti-wear and thermal conductivity properties.
The characteristics of GHA engines
Antibacterial motors, perfect for aseptic environments
Corrosion resistance
High thermal conductivity, higher heat dissipation capacity
Surface hardness, high resistance to abrasive wear
Advantages of GHA Carpanelli engines
GHA motors and gearboxes represent an excellent alternative to motors made of stainless steel.
They have a bactericidal external surface, a lower weight (1/3), a high thermal conductivity, are nickel free. They are non-magnetic motors, capable of withstanding high voltages, safe and aseptic, eco-friendly, made with non-magnetic components, polluting and recyclable.
Benefits for the environment
GHA Carpanelli motors are green motors. For the production, with recyclable and non-polluting materials, much less energy is required than those in stainless steel. They also can be cleaned with eco-sustainable products.
Fields of application for GHA motors
GHA electric motors and gearboxes are ideal for use in the food, chemical and pharmaceutical fields.
Do you want to know more about GHA Engines? Contact us!
< Go back